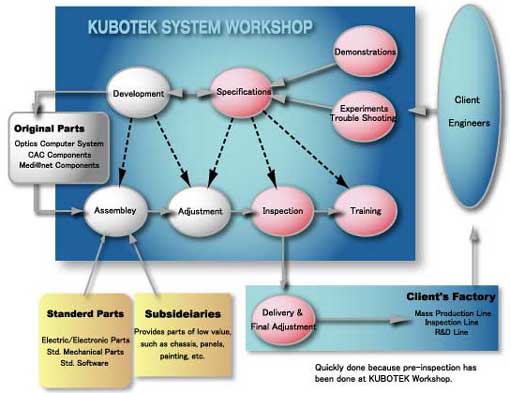 ・ KUBOTEK fully commits to users about the functions and quality of our products, and thus the Fab-less business model is not our selection.
・ We prefer to face directly with users. We believe that it is our mission to improve our products via direct information exchange with users.
・ The agreement about the product specifications is well defined, since our workshop approach assures the reliable communication between our engineers and user engineers, by means of the actual products and test pieces.
・ Sales, production, technical services, development and training are done within the workshop, thus the business process is efficient without un-necessary movement of workers and products.
・ Users' purchase decisions are confident because they can "evaluate the product by their own problems."
・ This method is possible because KUBOTEK has established the system component technology, and can share our technical information openly with users.