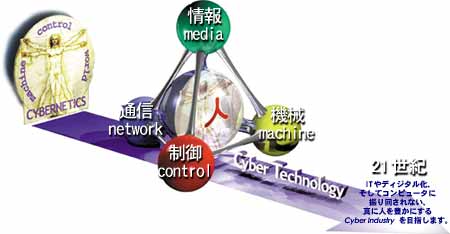 The 1500s
Leonardo Da Vinci discovered, invented and expressed human facts by combining his precise and keen observations about the world with the science and technology which started to grow at his times. The characteristics of his works are that the human being is always positioned at the center of his ultimate interest. So many of his original ideas are realized today, but we may have to ask ourselves whether the human is positioned rightly in those realized products. After five hundred years since his time, many people are anticipating and expecting that the next century to start with a new Renaissance.
The 1940s
Nobart wiener defined the control concept as an information system which is common to the general ecological system including human being as its part, and founded Cybernetics concept. Later, he predicted the risks of highly mechanized society, and proposed the "Humane use of Human Beings" to stabilize the social system with the control by people having the commonsense.
KUBOTEK is expanding a high performance "Creation Engineering Business", which plays the role of fore runner of the 21st century Industry Renaissance, by constantly developing and providing the Cybernetic Technology products for the creative engineers and manufacturers based on our understanding of their keen needs.
Cybernetic Technology is a technology complex which combines "machine", "control", "network" and "media", which are the primary technology for creative production, into various systems satisfying specific needs of users. The key of this technology is to assist engineers to "observe the reality", which is quite versatile for the innovative manufacturing industry. Accordingly, the Cybernetic Technology business can keep its growth by riding over the market fluctuations of individual products.